Adult Orthodontics Spokane WA - Damon Orthodontics
Adult Orthodontics in Spokane WA
Damon Orthodontics is ready for the challenge of helping you reach your perfect smile goal. Teeth play an important role in one's life, both professionally and personally. Everyone desires to have a perfect smile. Oral problems may arise at different times of life that require this desire to take some work. 
We have been asked whether there is an age limit for braces? There is no defined age limit for getting braces. Orthodontist recommend starting the process at an early age, such as between the ages of 10 – 14. The reason for this is that the head and mouth of adolescents are still growing and teeth are more conducive to straightening which shortens the braces duration and costs. There are, however, many people who get braces later in life.
The amount of time required for wearing braces depends on various factors such as severity of dental issues, the patients age, and type of treatment. The minimum time to wear braces is 18 months but can go up to 3 years. The severity of dental issue refers to the type of problem the patient is facing. These can include crooked teeth, crowded teeth or jaw misalignments. Age is one of the most crucial factors which decides the duration of braces. In other words, young patients (teens and children) tend to get results faster than adults because their jaws are still growing, making the teeth easier to manipulate. Finally, orthodontic treatment now offers various options and ease for patients such as Damon's braces, Damon's clear braces and Invisalign. 
Braces aren't just for Kids Anymore
Tooth alignment can be improved at any age if your gums and bone structure are healthy. We offer a variety of treatments that are designed for different age groups – including adults. A new smile can begin today.
Orthodontic treatment at later stages in life can dramatically improve your personal appearance and self-esteem. Improving the health of your teeth and gums is equally important. Crooked teeth and a bad bite can contribute to gum and bone loss, tooth decay, abnormal wear of the tooth enamel and surfaces, headaches and jaw joint (TMJ/TMD) pain.
Good news! The new techniques and appliances we use greatly reduce discomfort levels, decrease the frequency of visits, shorten treatment time and may allow you to choose from several options. Your options may include the Damon® Smiles ultra slim and smooth braces, available in Damon Clear nearly invisible braces. We also provide Invisalign clear aligners to move teeth.
During the initial examination, the doctors will determine the best possible treatment for your individual needs. During this initial examination, they will outline a treatment plan for you. Our treatment coordinator will provide scheduling options and discuss affordable payment methods.
A large percentage of our patients are adults, and they agree that it's never too late to improve their greatest asset – their smile.
There are several types of braces treatment available, each with their own characteristics and ease for the patients. 
Damon Braces
Damon braces are self-ligating appliances, meaning that instead of using elastic bands to attach the arch wire to the bracket, the brackets use a slide mechanism. This eliminates the need for elastic bands, which cause friction and can slow down treatment. With damon braces, teeth can move into place more freely so treatment time is decreased. Damon braces are more aesthetically pleasing because the brackets are less noticeable than traditional metal brackets.
Invisalign
Invisalign is a set of custom-made clear plastic aligners, which are designed to shift your teeth into the proper position. Approximately every two weeks the patient switches to a new set of aligner trays, repeating this process until their teeth are in the correct position. Invisalign is intended to deliver the same benefits as traditional braces but the aligner trays are less noticeable, offering an aesthetic advantage. The aligners are removed for eating, brushing and flossing, and may not take as long to achieve desired results as other types of braces.
Lingual Braces
Lingual braces are placed on the interior side of the teeth (by the tongue and palate) and are a great option for people concerned about their appearance. Similar to traditional braces, teeth are straightened using continuous gentle pressure to help them slowly shift into the proper position. Lingual braces involve more customization and may be more expensive than traditional braces, but less expensive than invisalign.
Traditional Braces
Metal braces consist of brackets, elastic bands and an arch wire. Brackets are bonded to the front of the tooth and used as anchors for the braces. Arch wires are placed through the brackets and small elastic bands secure the arch wire in the bracket. Tightening the arch wire puts tension on the teeth, gradually moving them into proper position. Orthodontists adjust braces every 4-6 weeks to bring about the desired results, which may be achieved in one to three years. Once braces are removed, a retainer is worn on both the upper and lower jaws (or where the braces were placed originally) for at least one year to hold the teeth into place in their new position.
Get Your Adult Braces Today
Get that smile you've always wanted by visiting Damon Orthodontics in Spokane WA. We can provide beautiful results for any age. Our office provides the newest technologies and we offer one of the top Invisalign practices in the state of Washington. Our team will be happy to serve you.

3 Locations To Serve You in Spokane, WA.  
Mon: 7:30 AM-5:00PM
Tue: 7:30 AM-5:00PM
Wed: 7:30 AM-5:00PM
Thur: 7:30 AM-5:00PM
Fri: 7:30 AM-5:00PM
New Patient Consultation Offer
Xrays, Oral Exam and Smile Assessment
Questions About Adult Braces
More and more adults are turning to braces, hoping to achieve the perfect smile and bite they have always dreamed about. Braces are a great option to straighten teeth, space out crowded teeth, and close gaps in your smile. 
However, the outcome of your teeth heavily depends on how well you care for your braces during treatment. Before committing to tooth correction, it is a good idea to know exactly what you are getting into to be better prepared. Get answers below to frequently asked questions about braces and what is involved.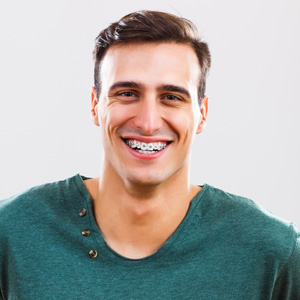 Frequently Asked Questions: